Ford and Toyota just announced they're going to collaborate on development of a new hybrid system for pickup trucks and SUVs.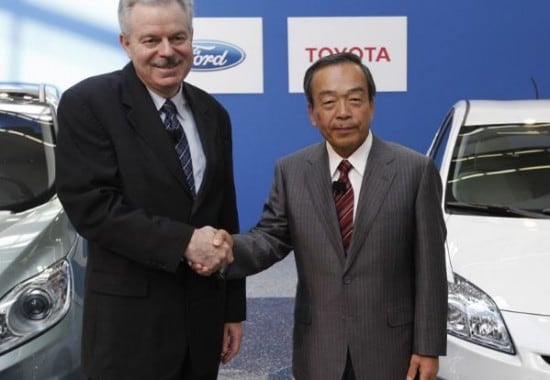 The challenge: Try to bring fuel-saving hybrid systems to rear-wheel drive trucks, not an easy task considering customers' demands for payload, towing capacity and durability.
The Ford Toyota partnership brings together Toyota's expertise in hybrid systems and Ford's leading position in trucks. The F-Series is the nation's best-selling vehicle of any sort for decades. Ford licensed elements of Toyota's hybrid system for its first generation Ford Escape SUVs. It had done its own research but discovered that it was cutting too close to what Toyota had already patented.
The signing of a memorandum of understanding will lead to joint research, the two companies said. They did not have an estimate of how soon their research will lead to a full-hybrid pickup. With the success that both companies have had with their hybrid vehicles - partnership was a logical next step.
Groove Ford, leading
Denver Ford Dealership
and Groove Toyota,
Englewood Toyota dealer
had nothing but good things to say about the future of hybrid vehicles. Rob Edwards, GM of Groove Toyota, said "Nothing but good can come for both companies working together to further technology for their customers".
"This agreement brings together the capability of two global leaders in hybrid vehicles and hybrid technology to develop a better solution more quickly and affordably for our customers," said Derrick Kuzak, Ford group vice president, Global Product Development. "Both teams bring a tremendous amount of expertise."
The two companies also agreed to work together on enablers to complement each company's existing telematics platform standards, helping bring more Internet-based services and useful information to consumers globally.
Ford is best known for their line of trucks, even being referred to as the "truck company" -
Denver Ford
dealer, Groove Ford, is proud that Ford's entire line of vehicles have a reputation for quality and value.
While Toyota has the Tacoma and Tundra, their hybrid knowledge has led the automotive industry in green technology. Groove Toyota, leading
Englewood Toyota
dealership, feels that being able to offer the consumer a wide range of options in vehicle types and sizes allows them to find the perfect car to fit the customers' needs.